These cook quickly as long as you purchase thin chicken cutlets.  This recipe is easy to double if you are feeding hungry boys!  Serve with egg noodles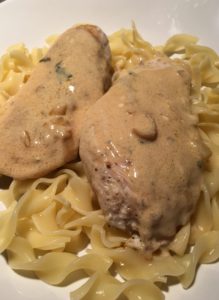 Ingredients:
1 Tablespoon extra-virgin olive oil
4 chicken cutlets
1/2 teaspoon salt
1/4 teaspoon black pepper
3 Tablespoons chopped shallots
1 teaspoon all-purpose flour
1/2 cup dry white wine or chicken stock
1/4 cup light sour cream
1 Tablespoon dijon mustard
1 Tablespoon finely chopped fresh tarragon
Heat a large skillet over medium heat.  Add oil to pan; swirl to coat.  Sprinkle chicken with salt and pepper; cook 3 minutes on each side (if your cutlets are a little thicker you may need 3 additional minutes.)  Place chicken on a platter.  Return pan to medium heat.  Add shallots; sauté 1 minute.  Sprinkle flour over shallots, cook 1 minute stirring constantly.  Add wine; bring to a boil.  Cook 1 minute, scraping the pan with a whisk to loosen browned bits.  Remove from heat; stir in sour cream and mustard.  Return chicken and juices to pan, sprinkle with tarragon.
Serves: 4
Recipe from Cooking Light Magazine