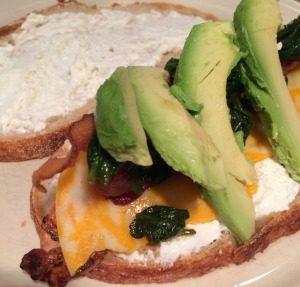 These sandwiches are hearty enough for dinner, or great for a leisurely lunch with friends.
Ingredients:
8 strips of smoked bacon
4 boneless, skinless chicken breasts
6 cups baby spinach
2 teaspoons balsamic vinegar
3 ounces cream cheese, softened
1 avocado, sliced
8 slices colby jack cheese
8 slices sourdough bread
Cook the bacon until crisp and let cool slightly.  Grill the chicken breasts over medium heat 6-8 minutes a side until cooked through.  Let rest for 5 minutes and then slice lengthwise.  In a small skillet with a drizzle of olive oil, sauté the spinach until it begins to wilt.  Add the balsamic vinegar and remove from heat.  Toast the sourdough bread and spread each slice with cream cheese.  Add a piece of colby jack onto each slice, followed by sliced chicken, bacon, spinach, and avocado slices. Top with additional slice of bread and cut the sandwich in half.
Yield: 4 sandwiches
Adapted from Cooking Light Magazine