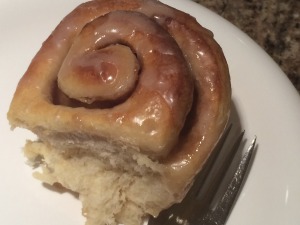 This recipe has been years in the making, until finally, one weekend, I set out on a quest to make the perfect cinnamon rolls.  After another batch in the trash, I finally found success!!  Plan on setting aside four hours to make these gems, but I promise, you have never had a better cinnamon roll!
Ingredients:
4 1/2 cups all-purpose flour
1/2 cup granulated sugar
1 package active dry yeast
1/2 cup butter
1 cup milk
2 eggs
1 Tablespoon vanilla extract
1 teaspoon salt
3 Tablespoons butter, melted
1/2 cup brown sugar
1 teaspoon ground cinnamon
2 cups powdered sugar
4 Tablespoons milk
1 teaspoon vanilla extract
In a large mixing bowl, stir together 1 cup of the flour, sugar, and yeast.  In a small saucepan over low heat, melt the butter in the milk until the butter has melted but do not bring to a boil.  Add the milk to the flour and beat at low speed of an electric mixer for two minutes.  Add the eggs, and vanilla beating well.  Add 1 additional cup of flour and beat for two minutes.  Add the remaining 2 1/4 cups flour and beat an additional two minutes.  Batter will become sticky against the beater.  Put the dough onto a lightly floured pastry board and knead the dough for 10 minutes, adding flour as necessary to keep it from sticking to the board.  Butter a large bowl, add the dough ball, and butter the top of the dough.  Place a towel over the top of the bowl and place in an oven with the light on for one hour.
Butter a large 13″ x 9″ pan.  Punch down the dough and need it a few times.  Recover with the towel and let it set on the counter for 10 minutes.  On a lightly floured pastry board, roll the dough into a 15″ x 12″ rectangle.  Brush the 3 Tablespoons of melted butter onto the dough.  Combine the brown sugar and cinnamon.  Sprinkle evenly over the dough.  Starting on the long side of the rectangle, gently roll the dough into a cylinder.  Using a serrated knife, cut off each end and discard.  Cut the dough into 12 rolls and place in the buttered dish.  Cover the pan with a towel and place in oven with the light on for one hour.  Remove the pan and heat the oven to 375 degrees.  Bake for 15-20 minutes or until rolls are golden brown.
Mix together powdered sugar, milk, and vanilla.  Drizzle evenly over the warm rolls.  Serve immediately.
These rolls can be frozen individually in freezer bags.
Yield:  12 rolls.