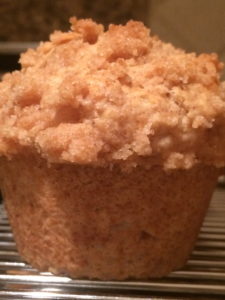 These have a wonderful crispy topping and pair well with hot chocolate or a cup of coffee.
Ingredients:
4 cups Bisquick
1/2 cup sugar
2 teaspoons ground cinnamon
2/3 cup applesauce
1/2 cup milk
1/4 cup canola oil
2 eggs
1/3 cup sugar
1/4 cup firmly packed brown sugar
3 Tablespoons Bisquick
1/4 teaspoon ground cinnamon
2 Tablespoons butter, melted
Whisk together the Bisquick, sugar, and cinnamon in a large bowl; make a well in the center.  Whisk together the applesauce, milk, and canola oil with the eggs.  Add to sugar mixture and stir just until dry ingredients are moistened.  Spoon batter into lightly greased muffin pan.  Combine 1/3 cup sugar, brown sugar, Bisquick, cinnamon, and melted butter with a fork.  Sprinkle over the top of each muffin.  Bake at 400 degrees for 15 minutes or until wooden pick inserted into the center of a muffin comes out clean.  Cool in pan on wire rack for 5 minutes.  Remove muffins from pan and cool on wire rack.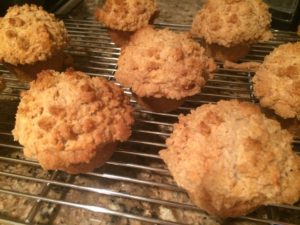 Yield:  12 muffins
This recipe was adapted from Southern Living Magazine.