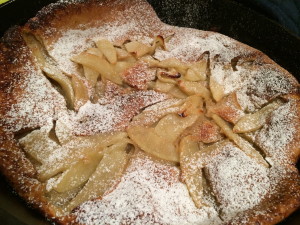 This is a quick fix breakfast and it tastes amazing, especially with the cider sauce.
Ingredients:
1 large Gala apple, peeled and sliced
1 Tablespoon granulated sugar
4 Tablespoons butter, divided
2 eggs
1/2 cup fat free or low fat milk
1/2 cup all-purpose flour
1/2 teaspoon ground cinnamon
1/4 teaspoon salt
1/4 teaspoon nutmeg
1 cup sour cream
1/2 cup firmly packed light brown sugar
1 Tablespoon apple cider
Powdered sugar
Preheat oven to 450 degrees.  Heat a 10″ cast iron skillet over medium heat.  Melt 2 Tablespoons of butter.  Combine apple slices and granulated sugar in a bowl.  Add to melted butter and sauté 3-5 minutes or until the apples are tender.  Remove apples from skillet.  Whisk together eggs and milk in a medium bowl.  Whisk in flour, cinnamon, salt, and nutmeg.  Melt remaining 2 Tablespoons of butter in skillet over medium heat.  Pour egg mixture over butter and add apples.  Bake at 450 degrees for 15-20 minutes or until golden brown and pancake is puffed.  Remove from oven, let cool for 5 minutes and sprinkle with powdered sugar.  Mix together sour cream and brown sugar.  Microwave for 30-45 seconds or until sugar is dissolved.  Add apple cider to get desired consistency.  Serve with a slice of the pancake.
Serves: 6
Recipe from Southern Living Magazine