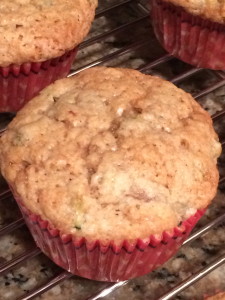 My mom made these all the time as an after school snack.  There is nothing better than walking in the kitchen after a long day to have the smell of cinnamon wafting at you!
Ingredients:
3 eggs
1 cup canola oil
2 cups sugar
1 Tablespoon vanilla
3 cups all-purpose flour
2 cups grated zucchini (drained on a paper towel)
1 teaspoon baking soda
1 teaspoon cinnamon
1/2 teaspoon baking powder
Blend all ingredients together and pour into lightly greased muffin pan.  Bake at 350 degrees for 25-30 minutes.  Remove pan and place on wire rack for 5 minutes.  Remove muffins from tin and let cool on rack.
Yield:  24 muffins