These lasted two days in our home…there are only four of us…and they were completely gone!
1 1/4 cups all-purpose flour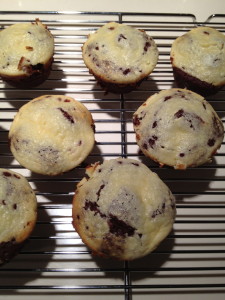 1/3 cup unsweetened cocoa powder
1/4 cup butter, melted and cooled
1/2 cup semisweet chocolate chips
6 oz. cream cheese, softened
Grease 12 muffin cups.
In a large bowl, mix flour, sugar, cocoa, baking soda, and salt.  
In another bowl, mix buttermilk, oil, butter, egg, and vanilla.
Add liquid ingredients to dry ingredients and stir just until mixed.  Add chocolate chips.
Spoon batter into muffin cups.
In a medium bowl, mix cream cheese, sugar, egg, and vanilla.  
Spoon cream cheese mixture on top of the chocolate batter.
Bake at 375 degrees for 20 minutes or until tester comes out clean.  Cool in pan for 5 minutes and then remove muffins to wire rack.