I found it easier to grate the chocolate in the food processor than the hand grater.  I have also substituted a bag of mi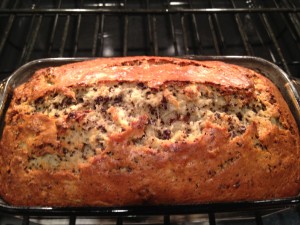 ni chocolate chips for the grated chocolate if you like a real "chocolatey" taste!
Ingredients:
2 cups all-purpose flour
10 Tablespoons sugar
2 1/2 ounces grated bittersweet chocolate
3/4 teaspoon baking soda
1/2 teaspoon salt
3 very ripe, soft, darkly speckled large bananas, mashed well
1/4 cup plain yogurt
2 large eggs, beaten lightly
6 Tablespoons unsalted butter, melted and cooled
1 teaspoon vanilla extract
Adjust the oven rack to the lower-middle position and heat the oven to 350 degrees.  Grease the bottom and sides of a 9 x 5 inch loaf pan, dust with flour, tapping out the excess.
Whisk the flour, sugar, chocolate, baking soda, and salt together in a large bowl; set aside.
Mix the mashed bananas, yogurt, eggs, butter, and vanilla with a wooden spoon in a medium bowl.  Lightly fold the banana mixture into the dry ingredients with a rubber spatula until just combined and the batter looks thick and chunky.  Scrape the batter into the prepared loaf pan.
Bake until the loaf is golden brown and a toothpick inserted in the center comes out clean, about 55-60 minutes.  Cool in pan for 5 minutes, then transfer to a wire rack.  Serve warm or at room temperature.  (The bread can be wrapped in plastic wrap and stored at room temperature for up to 3 days.)
This fantastic, super moist banana bread recipe is from my favorite baking cookbook, Baking Illustrated.  Every single item I make out of this cookbook, is no fail…and read all the tips before each section, they have really tested each recipe to ensure they are the best.