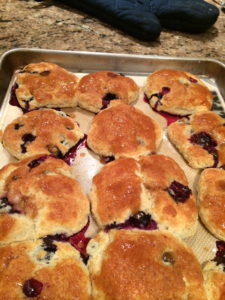 These make a wonderfully flat, sweet biscuit, best served with a touch of butter while they are still warm.  You can roll these out and use a biscuit cutter, but I prefer to gently cut them and form into circles to avoid smashing all the plump berries.
Ingredients:
2 cups all-purpose flour
1 Tablespoon baking powder
1/4 teaspoon baking soda
1 teaspoon salt
1/2 cup sugar
1 teaspoon grated orange rind
1/3 cup shortening
1 egg
3/4 cup buttermilk
1/2 cup fresh blueberries, rinsed and drained
3 Tablespoons butter, melted
3 Tablespoons sugar
1/4 teaspoon ground cinnamon
1/8 teaspoon ground nutmeg
Combine flour, baking powder, soda, salt, sugar and orange rind in a bowl.  Cut in shortening with a pastry blender or fork until crumbly.  Combine egg and buttermilk, add to flour mixture, stirring just until dry ingredients are moistened.  Stir in blueberries.  Place dough on a lightly floured board and knead 4 times. Divide dough into 4 sections.  Cut each section into 4 pieces.  Gently form into circles.  Place on a silicone mat on a cookie sheet and bake at 400 degrees for 15 minutes.  Combine butter, sugar, cinnamon, and nutmeg.  Brush on warm biscuits.
Yield: 15 biscuits