You may be rolling your eyes at the use of the word "best" but it is very appropriate with these muffins.  Serve warm with a glass of milk, some tea or coffee or as dessert.
Ingredients: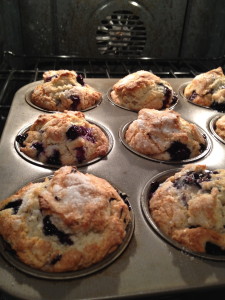 2 cups all-purpose flour
1 cup sugar
2 teaspoons baking powder
1/2 teaspoon salt
1/2 cup milk
1/2 cup unsalted, sweet cream butter, melted and cooled
1 egg
1 teaspoon vanilla
2 cups fresh blueberries, rinsed and drained
Grease a muffin tin with 12 muffin cups.
In a large bowl, stir together flour, sugar, baking powder, and salt.
In another bowl, stir together milk, butter, egg, and vanilla until blended.  Make a well in the center of the dry ingredients and add the liquid mixture, stirring just until combined.
Mash 1/4 cup of blueberries and stir into batter with a few quick strokes.  Stir in remaining blueberries.
Spoon batter into prepared muffin tins, and using 1 Tablespoon of sugar, sprinkle the tops of all the muffins.
Bake at 400 degrees for 20 minutes or until tester comes out clean.  Remove from oven and let cool in tins for 5 minutes before removing muffins to a wire rack.