This recipe can be made with ground beef, but I love it with ground turkey.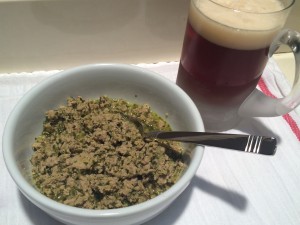 Ingredients:
1 large onion, finely chopped
1 Tablespoon olive oil
2 lb. lean ground turkey meat
1 Tablespoon oregano
1 clove garlic, minced
2-11 oz. can tomatillos
1/2 cup cilantro leaves
4 Tablespoons parsley
2 cups chicken broth
2 teaspoons ground cumin
In a food processor, blend onion until finely chopped.  Heat olive oil in a small dutch oven and add onion and turkey, cooking until turkey is no longer pink.  Add oregano and garlic.  In food processor blend drained tomatillos with cilantro and parsley.  Add to the turkey mixture with the chicken broth and cumin.  Cook until thickened, about 20 minutes.  Season with salt and pepper.
Serves: 4