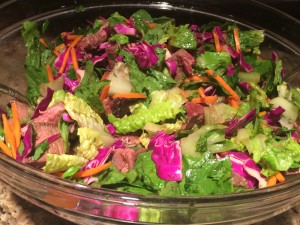 Even my skeptical picky eater, tried this and then asked for more!
Ingredients:
1-2lb. flank steak
1/2 teaspoon ground black pepper
1/4 teaspoon salt
1/4 teaspoon fresh lime juice
1 Tablespoon brown sugar
2 Tablespoons soy sauce
1 clove garlic, minced
1 teaspoon Sriracha hot chile sauce
1/2 head of red cabbage, thinly sliced
1/2 head of romaine lettuce, roughly torn
3/4 cup julienne-cut carrots
1/3 cup fresh cilantro leaves, chopped
1/3 cup fresh basil leaves, chopped
Preheat grill.  Salt and pepper both sides of the flank steak and drizzle olive oil on both sides.  Cook steak over medium heat for 8 minutes, flip steak and cook for another 6 minutes.  Let it rest for 5 minutes before slicing.  Combine lime juice, brown sugar, soy sauce, garlic and chile sauce blending well with a whisk.  Combine cabbage and remaining ingredients in a large bowl.  Add 6 Tablespoons of juice mixture and mix well.  Add 2 Tablespoons to the sliced steak and add to the salad.  Toss all ingredients together.
Serves: 4
This is a super quick recipe is adapted  from Cooking Light Magazine.