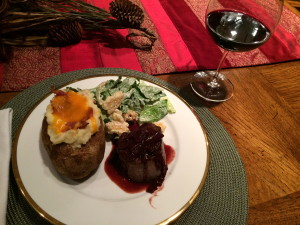 This is my go-to steak recipe whenever we have a special occasion in our family.  The combination of searing the outside of the steaks and then finishing the cooking in the over yields a steak that will melt in your mouth.  Serve with a caesar salad and twice baked potatoes, and for the adults…a great bottle of cabernet!
Ingredients:
Four 6-8 ounce beef tenderloin filets
1/2 teaspoon salt
1/4 teaspoon pepper
1/4 cup butter, divided
2 garlic cloves, minced
2 Tablespoons all-purpose flour
1 cup beef broth
1 cup dry red wine
1/4 cup bourbon
2 Tablespoons dijon mustard
1 teaspoon Worcestershire sauce
Sprinkle steaks with salt and pepper.  Melt 2 Tablespoons of butter in an oven proof skillet.  Add steaks and sear on each side about 2 minutes or until well browned.
Place steaks in a 350 degree oven and using a meat thermometer, cook to preferred level of doneness.  (these steaks are superb at medium rare.)  Cover with foil and let them rest while preparing the sauce.
Melt the remaining 2 Tablespoons of butter in a skillet.  Add garlic and flour to pan stirring constantly for 1 minute.  Gradually add beef broth, wine, and bourbon, whisking to a boil.  Reduce heat and whisk for 5 minutes or until thickened.  Serve sauce over steaks.
Serves:  4