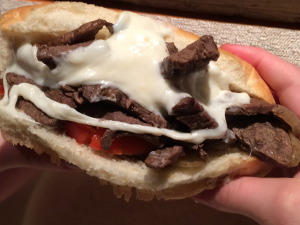 These sandwiches got a thumbs up from the whole family.
Ingredients:
1-12 oz. flank steak
1/4 teaspoon salt
1/4 teaspoon pepper
2-5″ portobello mushroom caps
2 teaspoons extra virgin olive oil
1 very thinly sliced onion
1 very thinly sliced red pepper
2 cloves garlic, minced
1/2 teaspoon Worcestershire sauce
1/2 teaspoon soy sauce
2 teaspoons all-purpose flour
1/2 cup milk
4 slices provolone cheese, torn into small pieces
2 Tablespoons grated Parmesan cheese
1/4 teaspoon dry mustard
4 mini baguettes
Place the beef in the freezer for 15 minutes.  Cut the beef across the grain into thin slices.  Sprinkle the beef with salt and pepper.  Remove the brown gills from the underside of the mushroom caps with a spoon and discard them.  Thinly slice the mushroom caps.  Heat a large skillet over medium heat.  Add 1 teaspoon of oil to the pan, swirl to coat  Add beef to pan and sauté until no longer pink.  Remove beef from pan.  Add additional teaspoon of oil to pan.  Add mushrooms, onion, pepper, and garlic and sauté until onions and peppers are soft.  Add beef back to pan and heat for a minute.  Remove from heat and stir in Worcestershire sauce and soy sauce.  Keep warm on low heat.  Place flour in a small saucepan, gradually add milk, stirring with a whisk until well blended.  Bring to a simmer over medium heat, cook for 1 minute or until slightly thickened.  Remove from heat.  Add cheeses and mustard , stirring until smooth.  Divide the beef mixture among the rolls.  Top with cheese mixture.
Serves: 4
This recipe was adapted from Cooking Light Magazine