This is hands down, the best pot roast recipe.  It takes a little prep, but it is well worth it!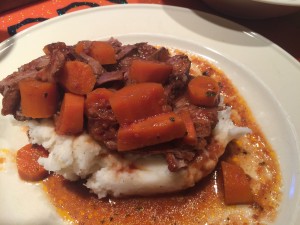 Ingredients:
8 slices of bacon, cooked and chopped
1 onion, chopped
4 carrots, peeled and cut into 1″ chunks
3 garlic cloves, minced
2 teaspoons dried oregano
2 Tablespoons tomato paste
1/2 ounce dried porcini mushrooms, rinsed and minced
1/2 teaspoon red pepper flakes
1/2 cup dry red wine
1-28 oz. can crushed tomatoes
1 cup low-sodium chicken broth
2 bay leaves
2 (2 1/2-3 lb.) boneless beef chuck roasts, tied together
Salt and pepper
In a skillet with a Tablespoon of olive oil, add onions, carrots, garlic, oregano, tomato paste, porcini mushrooms, and red pepper flakes.  Cook over medium high heat until vegetables are softened and lightly browned, about 10 minutes.  Stir in wine, scraping up any browned bits, transfer to slow cooker.  Stir tomatoes, broth, and bay leaves into slow cooker.  Season roasts with salt and pepper and nestle into slow cooker.  Cover and cook until beef is tender, 5-7 hours on high.  Transfer roast to cutting board, tent loosely with aluminum foil, and let rest for 20 minutes.  Let braising liquid settle for 5 minutes, then remove fat using a large spoon.  Discard bay leaves.  Season with salt and pepper to taste.  Remove twine from roasts, slice into 1/2″ thick slices and serve over mashed potatoes with a spoonful of sauce on top.
Serves:  6-8
Recipe adapted from Slow Cooker Revolution Cookbook