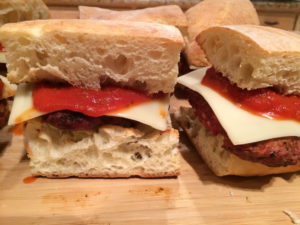 This is a great twist on the regular burger and the turkey sausage makes for a nice and juicy patty.  My whole family requests this sandwich once a week!
Ingredients:
8 oz. sweet Italian turkey sausage
1 teaspoon dried oregano
1/2 teaspoon salt
1/8 teaspoon garlic powder
1 lb. extra lean ground beef
Fresh Mozzarella cheese, thinly sliced
6 Cibatta Italian bread rolls
1 jar tomato basil marinara pasta sauce
Remove casing from the sausage and place the sausage in a large bowl.  Combine with spices and ground beef.  Divide mixture into 6 rounds and form into patties.  Grill patties for 6-8 minutes at medium heat.  Flip and grill for 6-8 more minutes.  Slice rolls and grill until golden brown, about 3 minutes.  Place patty on each roll.  Add a slice of mozzarella cheese and 2 Tablespoons of marinara on each patty.
Serves: 6