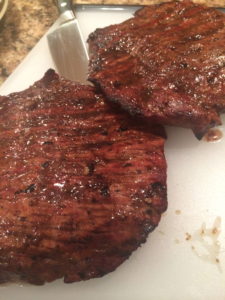 This is one of my kids favorite flank steak recipes.  If you have meat eaters in your family, double the recipe!
Ingredients:
1/4 cup canola oil
1/4 cup balsamic vinegar
2 Tablespoons bottled barbecue sauce
1 Tablespoon Worcestershire sauce
1 garlic clove, minced
1/2 teaspoon pepper
2 lb. flank steak
Place flank steak in a plastic zipper bag and pour the marinate over the steak and seal the bag.  Place in the refrigerator for 3-5 hours.
Take steak out of marinade and grill at medium heat for 6-8 minutes a side.
Let the steak rest for 5 minutes then slice against the grain in thin slices.
Serves: 6