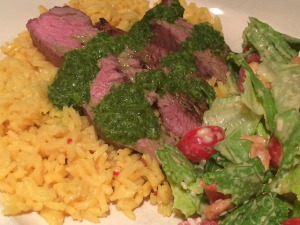 This recipe can be made using flat-leaf parsley or cilantro.  Do not grill the steak too long or it will be tough. Let it rest for a full 5 minutes before you start slicing to keep the meat nice and juicy.  Yellow saffron rice is a great accompaniment to this steak.
Ingredients:
1/2 cup flat-leaf parsley leaves OR cilantro
2 tablespoons fresh lemon juice
1/2 teaspoon crushed red pepper
1/4 teaspoon salt
1/4 teaspoon sugar
1/4 teaspoon ground cumin
1 garlic clove
2 tablespoons extra virgin olive oil
1 tablespoon water
1-2 lb. flank steak
salt, pepper
To make chimichurri sauce, place all ingredients (except the steak, of course!) in the food processor and blend.  Salt and pepper both sides of the steak.  Grill 6-8 minutes a side for medium rare depending on the thickness of the meat.  Let meat stand for 5 minutes before slicing.  Serve with chimichurri sauce.
Serves: 4-6