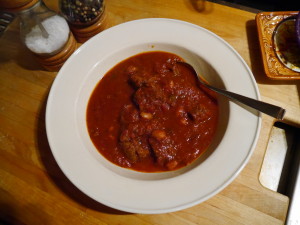 If your family is anything like mine, a kidney bean makes them freak out.  They taste wonderful in this chili, but if you have the same issue with your family, substitute pinto beans, or leave out the beans altogether.  This is really good served over yellow rice.
Ingredients:
1 Tablespoon olive oil
2 lbs. beef stew meat
1/2 teaspoon salt
1 onion, chopped
1/2 red bell pepper, chipped
1 clove garlic, minded
1 jalepeno, seeded and minced
2/3 cup dry red wine
1 1/2 Tablespoon brown sugar
2 Tablespoons tomato paste
1 1/2 teaspoon ancho chili powder
1 teaspoon dried oregano
1/2 teaspoon ground red pepper
1/2 teaspoon chili powder
1/4 teaspoon ground cumin
1-28oz. can whole tomatoes, undrained and chopped
1-15 oz. can kidney beans, rinsed and drained
1-15 oz. can hot chili beans
Heat oil in a large dutch oven and add stew meat over medium heat, cooking until browned on all sides.  Remove beef from the pan.  Add onion and pepper, sauté until onions are translucent.  Add garlic and jalapeño.  Saute for 30 seconds, then add wine, scraping the bottom to loosen the bits stuck to the pan.  Add beef back to the pan, and add the remaining ingredients.  Bring to a boil.  Cover pan and reduce heat to low, cooking for 2 hours.
Serves:  6