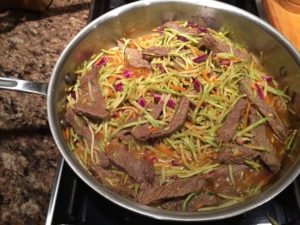 This is a cinch to throw together and no one in your family will be the wiser that the small shreds in the dish are broccoli!
Ingredients:
1 Tablespoon olive oil
1 1/2 lbs. flank steak, cut into strips
3 Tablespoons soy sauce
2 Tablespoons rice vinegar
1 Tablespoon Sriracha hot sauce
1 Tablespoon honey
1/2 teaspoon sesame oil
1 Tablespoon dijon mustard
1/4 cup water
12 oz. package broccoli slaw
In a large skillet, heat the olive oil.  Add steak and cook over medium heat until tender.  In  a small bowl combine soy sauce and next 6 ingredients.  Add to beef and cook for 2 minutes.  Add broccoli slaw and cook for 5 minutes.  Serve over brown rice.
Serves: 4