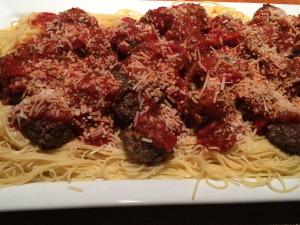 Cook these meatballs on a broiler pan so the grease drips below and all that is left is a lean, delicious meatball!  Tip from my sister:  line the bottom of the broiler pan with foil.  Clean-up will be a snap!
Ingredients:
2 pounds lean ground beef
1 egg
3/4 cup quick cooking oats
3/4 cup milk
1 teaspoon salt
1 teaspoon Italian seasoning
1/4 teaspoon pepper
6 Tablespoons all-purpose flour
3 teaspoons paprika
1 teaspoon salt
Jar of marinara sauce
Combine ground beef, egg, oats, milk, salt, Italian seasoning, and pepper in a large bowl.  In a smaller bowl combine flour, paprika, and salt.  Form meatballs with a cookie scoop, roll in the flour mixture, and place on a lightly greased broiler pan.  Bake at 400 degrees for 25-30 minutes.  Serve with heated marinara sauce.
Yield:  3-4 dozen meatballs