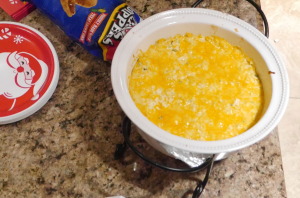 This is the best dip ever and it is so easy to double for a crowd!
Ingredients:
2 cans sweet corn, drained and rinsed
2 Jalapeño peppers, seeded and minced
2 green onions, minced
1/2 cup mayonnaise
1/2 cup sour cream
1 cup shredded monterey jack & cheddar cheese
1 teaspoon garlic powder
1 teaspoon onion powder
1/2 teaspoon chili powder
Four dashes Louisiana hot sauce
salt & pepper to taste
In a medium bowl, mix together mayonnaise, sour cream, spices, and hot sauce.  Fold in corn, jalapeños, onions and 3/4 cup cheese.  Place in a greased 2 quart baking dish and top with remaining cheese.  Bake at 375 degrees for 20 minutes or until cheese is golden brown.  Serve with big corn chips or tortilla chips.
Recipe prepared by my friend Liz