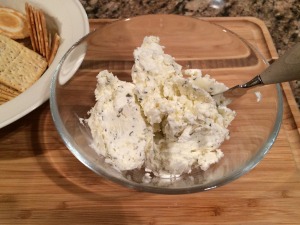 This spread almost tastes better than what you pay a lot of money for in the store.  And it is at it's best 2-3 days later.  It makes a ton, so feel free to freeze some of it and thaw it out in the refrigerator.  Serve with your favorite water cracker.
Ingredients:
1 clove garlic, minced
2-8 oz. packages cream cheese, softened
1 cup butter, softened
1 teaspoon dried oregano
1/4 teaspoon dried basil
1/4 teaspoon dried marjoram
1/4 teaspoon dried thyme
1/4 teaspoon pepper
Combine all ingredients in a food processor and mix until smooth.  You may need to stop a few times to scrape down the sides.
Yield:  3 cups