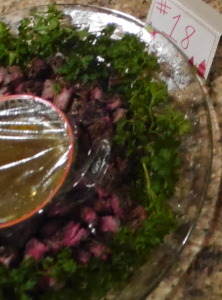 This is a great appetizer for a party.  Just cube the steak, add toothpicks, and the butter sauce for dipping and the platter will be devoured in no time.
Ingredients:
1 Tablespoon plus 1 teaspoon Montreal Steak seasoning
1/2 cup plus 1/4 cup brown sugar
4 Tablespoons freshly ground coffee (not brewed), divided
2 lbs. fajita meat
1 cup butter
Combine steak seasoning, brown, sugar and coffee grounds in a bowl.  Rub all over the steaks and let them sit in the refrigerator for two hours.  Spray the steaks with olive oil and grill over medium heat 6 minutes a side or until medium rare.  To prepare the butter sauce, combine 1 teaspoon of steak seasoning with 1/4 cup brown sugar and 2 Tablespoons of coffee in a small saucepan.  Bring to a boil and then strain the sauce.  Cube the meat and serve with the coffee butter.
Prepared by my friend Page