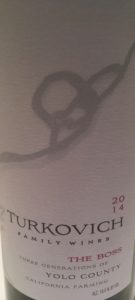 One of my Aunt's that lives in California sent this wine to me and it is one of my favorites.
This 2014 bottle is a mix of Syrah, Petite Verdot, Tannat, Malbec, and Cabernet Sauvignon.
I served this with grilled flank steak and roasted potatoes and it was a perfect match.
It's a new year, try a new wine!